Aztec's Millions Slots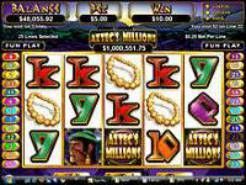 Current Jackpot
$1,390,179.45
Play Now
Players who are looking for a way to win more by playing online slots will be excited to know Aztec's Millions Slots is one of the best way to make that desire a reality. This slot by RealTime Gaming is much like the famous Aztec's Treasure Slots, but it comes with an added jackpot opportunity. The games are very much the same, with the same symbols and graphics, which is perfect for those who already love Aztec's Treasure Slots. But, with Aztec's Millions Slots, there are 25 paylines and fixed $5 bet per spin. Those who are on smaller playing budgets may not want to venture toward this exciting slot, but those who are ready to take bigger chances to win bigger payoffs will enjoy it completely.
Familiar Symbols With Bigger Payoffs: Aztec's Millions Slots
While all slots have symbols that are more sought after than others, there are several within Aztec's Millions Slots that will lead to giant pay days. The King symbol is the game's Wild icon and it only appears on reels 2, 3, and 4. The Idol is the game's Scatter icon and pays 100x the total bet when a player can land five of them. The Scatter symbol will also give the player 5, 15 or 25 free spins, depending on how many are landed. The Queen icon is also extremely profitable and when five are landed the player will receive 5000x the line bet. In addition, to win the giant jackpot, players must get five Aztec's Millions symbols on any payline. It's not unusual for the jackpot to be well over $1 million.
Free Spins and More Free Spins In Aztec's Millions Slots
One of the more exciting things about Aztec's Millions Slots is that the free spins can be re-triggered. When a player is engaged in the free spins bonuses, even a single Aztec Idol symbol showing up will re-trigger the free spins and give the player another free spin immediately. As expected, if two Idols show up, the player will get two more free spins. If a player lands four Idols during their free spins bonus, they will automatically get an additional 15 free spins. Lastly, if five Idols show up, they'll get 25 more free spins. This ultimately means a player can continue to re-trigger free spins continuously, without stopping and thus not have to pay for spins during their entire gaming session. While some slots offer lower budgeted options with smaller payouts, Aztec's Millions offers players the chance to win gigantic rewards!