Big Shot Slots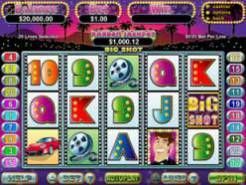 Current Jackpot
$1,556.53
Play Now
Hollywood is the place for dreamers with big dreams and Big Shot Slots is a 5 reel, 20 payline online slot game that celebrates that opportunity. Created by RealTime Gaming, this star powered slot offers wild symbols, scatter symbols, a random progressive jackpot and a free spin bonus feature. With Hollywood themed graphics, players will think they've stepped right into the bright lights of stardom.
Hollywood Famous Symbols: Big Shot Slots
Those who dream of super stardom will really enjoy the Hollywood themed symbols features in Big Shot Slots. Along with traditional symbols like the Ace, King, Queen, Jack, Ten and Nine symbols, players can also land symbols of Blonde Bombshell, Superstar, Film Canister, Award, Clapper, a fancy car, and a symbol featuring "Big Shot".
Big Awards Trigger Bonuses In Big Shot Slots
When players are lucky enough to land two or more Award symbols, which acts as the game's Scatter Symbols, the orchestra will begin to play and trumpets will sound. This is the beginning of the triggered multiplier round. During this round, the multiplier amount will depend on how many Award symbols you've landed in order to trigger it. Three Award symbols will give you a 5x multiplier, four Award symbols will give a 20x multiplier and 5 Award symbols will give a 100x multiplier. Another profitable way to win big at Big Shot Slots is by landing the Superstar symbol, which acts as the game's Wild Symbol. This symbol appears only on certain reels and can act as a substitute for all other symbols, expect the Scatter Symbol. When it substitutes for other symbols, it can help create more winning combinations than the player had before. The Big Shot symbol is also a very worthy symbol in this exciting online slot game. It will only spear on the two end reels and when it appears on both, it triggers a free spins bonus of between 5 and 20 free spins. During these free spins, the Big Shot symbol acts as a temporary Wild Symbol, as well. Each free spin the player uses will cause the multiplier to increase by one. Thus, the second free spin gives a 2x multiplier, and so on. Big Shot Slots is one of the most exciting online slot game choices for those who love everything Hollywood. It also has an "auto play" feature that will allow you to sit back and let the game do everything for you, in true privileged Superstar style.