Mister Money Slots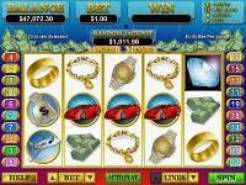 Current Jackpot
$8,220.02
Play Now
Luxury is the name of the slot game with Mister Money. From expensive cars, lavish boats and high-class private jets, to designer labels, luxurious living, expensive jewellery, and cash, in fact, it is luxury all around. Mister Money slots has it all and wants to share it with you. The slot is packed with Free Spins, special casino features, Wilds and Scatters. Everything players love in a premium gaming experience is here. The game theme itself is exceptionally fitting and apt as it blends in seamlessly with classic casino gaming. The slot is fully loaded and ready for you to dive in and accept the challenge. The layout and symbols will make it easier and more pleasant to experience a life of luxury at the virtual casino.
Luxurious Game Icons
Mister Money slots is fully loaded with great special features, such as Bonus Games, Free Spins and high stakes. What really stands out are the inspiring gaming Symbols. There is a Private Jet, a glorious Red Diamond and a beautiful bright, White Diamond which acts as the Scatter and Wild respectively. The Wild icon may replace any of the other game symbols to create great winning combinations and payouts, and it can also replace the Scatter! The full line-up of symbols include Jewellery, a Red Sports Car, a beautiful Necklace, a Gold Ring, a massive Mansion, a stack of Cash, an expensive timepiece, and a green sack of Cash which all make up the list of game symbols. They are all desirable objects to be sure.
Power Symbols with High Payouts
Landing 3 or more of the Red Diamond Symbols on the Reels will win you a gift of 5 Free Spins, which could rise depending on the number of Wilds icons you get on the reels. If the White Diamond symbol replaces one of the 5 Mister Money icons and forms a five of a kind winning combination, then you stand to earn the highest game payout award of 2,500 Coins! Landing 5 Money Bags symbols also gifts you multiple Free Spins all with different numbers that are to be found within the Money Bags themselves, if you get a minimum of 3 of them. Besides the Free Spins that can be won, there is an attached Multiplier as well. A total of 25 Free Spins can be earned during the round if you are lucky enough to get them on the reels.
Jackpots & Bonuses
The Free Spine are activated by landing the Red Diamond Scatter Symbol, and it can award you up to 50 Free Spins. Prizes during the initial five Free Spins can be doubled, further increasing your potential to win. If you manage to spin 3, 4 or 5 of the Red Diamonds icons on the Reels you will stand a chance of winning an additional 10, 15 or 20 Free Spins! There is a random Progressive Jackpot which is built into Mister Money slots and can be gained after every Spin of the Reels. It is available to players regardless of how much they bet.
Money Wagering Options
There is an excellent choice of coin values to choose from starting from $0.20 per coin, moving up to a maximum bet value of $100! This offers a broad range of betting options that will suit all kinds of players from high rollers to newcomers to the game. This is one of the significant advantages Mister Money has over other slot machines. The theme does not do any harm and adds to the atmosphere of the game and the wagering process. The game symbols pay out from the left to the right of the screen, apart from the Red Diamond Scatter icon that pays out every way. The Maximum win playing Mister Money is 40,000x your per pay line wager per spin, which is exceptionally good value and suggests a good payout percentage and mentality of fair play. The game control buttons are easy to use, clear and intuitive. They include Spin, Bet, Auto Play, Cashier, Maximum Bet, Up and Down. The last two are used to set the bet value. You also have the Help and Info Buttons which are critical to understanding the game flow thoroughly before wagering real money play.
Mister Money Verdict
What more can we about Mister Money slots? As with most other slot games, it really pays to play with the higher coin denominations and more solid bets, as this generally ensures much higher payouts. It is necessary to start playing the game slow and easy, then increasing your bets bit by bit. Utilise the Free Spins mode, and most of all read the game instructions and the rules. With everything fitting neatly into place, Mister Money is a fantastic slot game to play and has a high potential for massive payouts. The mobile version of this game adds extra dimensions to wager on the move, or in the comfort of your living room, and the mobile version has been optimised for tablets and smartphones. It is fully compatible with all iOS, Android and Windows devices and their respective operating systems. You could do worse than playing Mister Money, as the game is far better than many similar slot games. The features are exceptional and the wagering process tremendous and easy to use, serving up multiple chances to win a high payout. Why not go for it and give the slot a chance. It will provide many more to you!