Victory Slots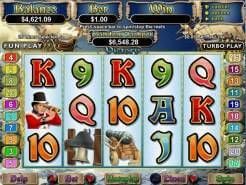 Current Jackpot
$3,103.28
Play Now
Players who are ready for a wild adventure with pirates can spin their way toward the big bounty in Victory Slots . In this online slot game, players can win big rewards as the pirates and British Navy fight to control the reels. With 5 reels and 50 paylines, Victory Slots gives many opportunities and possibilities for winning. As with any online slot game, more opportunities come with the more paylines that are played. For ultimate possibilities, all paylines should be activated on each spin.
Paytable Details for Victory Slots
While the symbols in Victory Slots aren't completely unique and original, the payout on them is still impressive. The majority of the symbols are traditional card icons, from 10 to Ace. Combinations of 3, 4, or 5 of these will pay from 10x to 100x the current line bet. So, while they're mediocre, they will still land money in your bank account. The other symbols consist of a map, a spyglass, treasure chest, ships and a compass. The spyglass carries the highest reward of up to 200x the original line bet.
Minor, Mini, & Mega Jackpots: Victory Slots
Most online slot games come with one jackpot, but players of all skill level can appreciate the fact that Victory Slots comes with three different jackpot opportunities. The ship symbols trigger the jackpot and when a player lands 5 of them, the minor, mini, or mega jackpot will be triggered. The determination of which jackpot is triggered depends on which type of ship is landed. The amounts of each jackpot are displayed at the top of the screen, for players to view at any time during their gaming session. The treasure chests act as the Wild Symbols in this entertaining slot game. They substitute to help players win on paylines, or when they are found in combination they can trigger a multiplier of up to 150x the original line bet. The map acts as the Scatter Symbol and can also trigger a multiplier of up to 100x the original line bet. When a player finds the captain symbol in bulk, they are automatically given 15 free spins. Lastly, Victory Slots consists of a fun bonus game that is triggered by finding canons on the screen. Those who enjoy basic video slot formats, with a few perks and multiple jackpot sizes will certainly enjoy Victory Slots. After all, why play a video slot game with only one jackpot, when you can play for three?